About Your Trusted Tax Attorneys
Michigan/IRS Tax Settlement Services
Fresh Start – Tax Debt Help – Tax Liability Negotiation
Let Us Handle the IRS So You Can Get Back to Living Your Life
Austin & Larson Tax Resolution provides tax help to taxpayers that owe back taxes in Michigan. We understand that having unfiled tax returns or owing back taxes that you are unable to pay can cause anxiety and stress. It also negatively impacts your personal and professional life. It is our goal to provide local tax help to relieve this burden and get you back on track to a tax-debt-free life. We will tailor a resolution plan to your specific needs and financial situation. We will then immediately contact the IRS and begin working on resolving your tax matters. We receive and review copies of all IRS correspondence and will handle all contact regarding your tax matters.
Our Michigan Tax Relief firm consists of IRS Enrolled Agents, Accountants CPAs, and Tax Attorneys who are passionate about assisting taxpayers with resolving their tax liabilities. Our team has extensive knowledge of both business and personal tax return preparation. We also have extensive experience representing clients from all walks of life before the IRS and the State of Michigan. No matter the size of the tax debt, our team at Austin & Larson Tax Resolution is here to provide you with tax help.
Why Choose Austin & Larson Tax Resolution?
Dealing with the IRS or State of Michigan on a tax debt issue is a very stressful and frightening situation. Both the IRS and the State of Michigan have the power to wreak havoc on your life. Trying to sort through all the IRS notices and forms brought on by delinquent tax debt is an overwhelming task that creates a huge burden. It will surely take time away from your family and your job.
Let us be your tax debt advocate through this negotiation and settlement process. We are tax debt relief experts in navigating IRS and Michigan tax practices and procedures. We have years of experience working with Revenue Officers, Appeals Agents, and Tax Auditors. We have assisted hundreds of Michigan taxpayers with establishing IRS installment agreements, Offers in Compromises, and other IRS programs to resolve their tax liabilities.
Let us use our tax expertise to get you the best results possible in back tax debt settlement, as well as IRS tax debt forgiveness and penalty abatement.
Bridgette Austin, Esq., EA, is originally from Bellaire, Michigan. She received her bachelor's degree from Northern Michigan University. She then moved to East Lansing to attend law school at Michigan State University College of Law. During her time in law school, Bridgette spent two years working as a student clinician at the MSU College of Law Tax Clinic. This clinic represents low-income members of the community with tax representation before the IRS and the State of Michigan. After graduating from law school, Bridgette stayed on at the clinic as a fellow for an additional year. It was through the clinics that Bridgette found her love of tax law and representing clients before the IRS and the State of Michigan.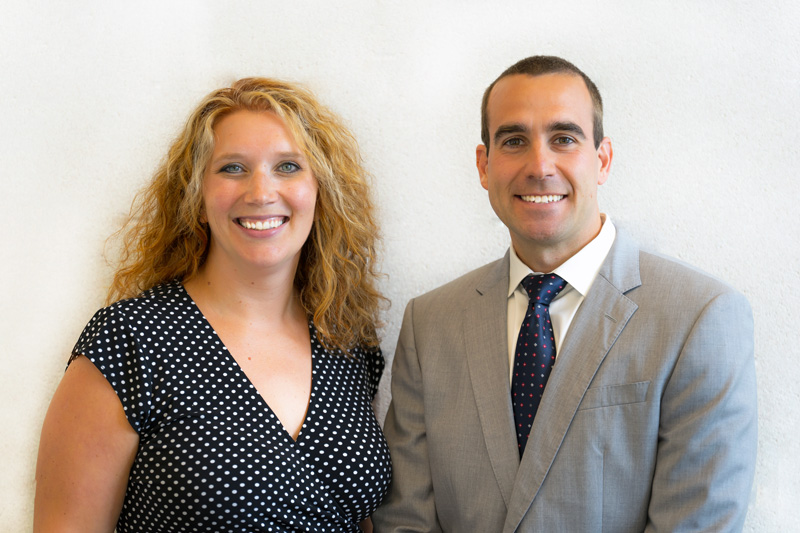 Bridgette has since spent many years in the tax resolution field, continuing to represent clients before the IRS and the State of Michigan and assist them with resolving their outstanding tax debt. Aside from work, Bridgette spends time raising her three daughters and visiting her family who still resides in Northern Michigan. In addition to her law degree, Bridgette is licensed as an Enrolled Agent with the IRS.
Dustin Larson, EA, is originally from Manistee, MI. Dustin received his bachelor's degree in accounting from Ferris State University. He then became licensed as a CPA and is also licensed as an Enrolled Agent through the IRS. After graduating from Ferris, Dustin spent multiple years working at a tax resolution firm. Dustin is drawn to the precision that comes with preparing and filing IRS returns and forms and enjoys helping clients in correcting IRS adjustments and straightening out their tax issues. In his free time, Dustin enjoys spending time on Lake Michigan, golfing, traveling, and spending time with his family.
A Local, Michigan Tax Resolution Firm vs. National Firms – Our Advantages
Austin & Larson Tax Resolution is a Michigan-based firm. We have offices in downtown Brighton, MI, Lansing MI, Jackson, MI, and in Saginaw, MI; centrally located for all of our Michigan clients.
There are many advantages to choosing a local Michigan tax debt relief firm over a large national corporation. Unlike a national corporation, we are always available to meet with our clients and discuss the specifics of their tax debt case with them. We encourage our clients to ask questions and bring in their tax documentation for review and discussion.
Instead of being just another tax debt case file on a desk across the country, with Austin & Larson Tax Resolution, you will know the person handling your case. We truly care about each of our clients and strive to create lasting business relationships with each of them.
Our Tax Debt Relief Process
Each client's tax situation is unique and will require its own plan for tax resolution. Here's an example of what you can expect when you work with Austin & Larson:
During your first call to our office, we will ask you a brief background of your current tax situation and determine the most convenient office location for your free initial consultation.
We will meet with you to review and discuss your individual facts and circumstances to create a customized tax relief plan for your situation.
We immediately start working on resolving your tax debt. From the moment you retain our firm, we will be your voice with the IRS and the point of contact for all taxing entities.
We will continually monitor your case to ensure the initial plan for resolution continues to be your best resolution option. If there is a change in your financial or personal circumstances, we will review your case and adjust our original plan to continue to work toward the best resolution option.
It is our goal not only to resolve your current tax liabilities but also to make sure that you do not have any further tax problems. Throughout your case, we will discuss the steps you need to take to get into compliance with the IRS and the State of Michigan. We want to make sure all our clients not only receive the best possible outcome for resolving their tax liabilities, but also understand how to not accrue additional tax debt in the future.
Choosing A Certified Michigan Tax Resolution Firm
Many of our clients come to our firm after first trying to resolve their tax problems on their own. There are some situations where a taxpayer can establish their own resolution and do not need a resolution firm to assist them. However, before deciding to work directly with the IRS, you should know what your options are. We are happy to schedule a consultation to review your situation and go through these options with you.
Hiring a tax debt resolution firm to represent your tax matters is a serious decision. Choosing the wrong representative can be a very costly mistake. When choosing a tax representative, it is important to choose a company that has knowledge and experience in dealing with the IRS.
Having an experienced representative may save you thousands of dollars in tax debt and will likely result in much more favorable results.
Contact our office to speak with representatives with the experience and expertise to achieve successful tax debt relief today. Our services start with a free, no-obligation consultation about your tax problems.
Serving Michigan taxpayers with professional tax debt relief services – that's Austin & Larson Tax Resolution.
Contact Us Today
We understand how frustrating tax related issues can be and we are here to help resolve your unpaid taxes once and for all. Our team has extensive experience working with the IRS on our clients' behalf to fully resolve tax liabilities, and we would love the opportunity to do the same for you. Reach out for a free consultation today!
Brighton, Saginaw, Lansing, and Ann Arbor, MI